Today we'd like to introduce you to Jessica Cone.
Hi Jessica, it's an honor to have you on the platform. Thanks for taking the time to share your story with us – to start maybe you can share some of your backstories with our readers?
My art is a story of perseverance and sidestepping the universe telling me "no." I'm often asked, "How did you stay so motivated when you first started?" My motivation came from anger. I could of let it get me into trouble, but I transformed mine into determination. I hope to show others that everyone has something unique about themselves that can be their saving grace.
My doodling started as early as a toddler in my walker. I had art featured around the city in elementary school and won statewide competitions in High school. Although my art seemed passion-driven from the outside, it was a sink-or-swim ordeal for me.
My childhood wasn't easy due to my mother's struggle with substances and my father's emotional distance. I didn't know if there would be food or lights or if I'd be in a house, car, or hotel. So at the age of 7, I decided I wanted a way out. Video games, comics, and animation were the main inspirations that allowed me to explore the skills I'd later use to do better for myself.
The spark that started everything was a failed application to an art school. They said cartoons aren't art and that I should pick a different profession. In 2003 I attended a technical academy where I used concepts from class to get into digital art. I started drawing completely digital when I saved enough money from commissions in 2013 to upgrade to a Wacom Cintiq drawing monitor!
I started applying for art booths at events like entrepreneur fairs and anime conventions. Unfortunately, I received denial letters for low social media presence and a small portfolio. In 2014 I dropped out of college to work on it. One year later, I had a breakout performance in a Super Smash Bros tournament at a Game/Art show that resulted in a one-year eSports sponsorship. It built my social media presence.
I started receiving acceptance letters from events that once rejected me. I successfully set up my first art booth in 2017. I continued to various gaming-themed shows as an exhibitor around Florida part-time. Later in 2018, I was diagnosed with a medical condition that caused me to lose two-day jobs. It was the kick I needed to make the leap from manual labor warehouse work to doing art full-time. I never looked back!
We all face challenges, but looking back would you describe it as a relatively smooth road?
My biggest challenge was learning how I fit into the world. Once I learned how my mind works and realized that I don't have to cater to expectations heavily rooted in Neurotypical bias, I started to accel like never before.
My clues started with my art business. I'd shell up and surrender to lowball prices for client projects if consultations went too fast. It felt familiar, so I looked to my work history for patterns.
I remember many judgments, failed interviews, and being fired or demoted at various jobs. "Poor eye contact delayed responses, disinterested or nervous body language." "Asking too many irrelevant questions." "Not taking things seriously. "Off task." "Stop being lazy." "Be more professional and grow up." Fast-paced or too much communication and office multitasking led to shutdowns where I'd involuntary cry or go mute.
I wondered why this kept happening and deiced to see a therapist last year. I walked in defeated, wondering why I do everything the "wrong way." Finally, we found out that I am Autistic and ADHD (Neurodivergent!) There was nothing "wrong" or "broken" about me! I had a differently wired brain that does and sees things uniquely and differently.
I finally learned self-love and how to take myself out of the box of shame the world put me inside.
• I don't have to be a "jack of all trades" to prove my worth; I'm allowed to specialize in liner things.
• I'm not "lazy" because I don't work fast enough or "push my limits;" I'm allowed to work and improve at my own pace.
• Fidgeting or doodling or not making eye contact (repetitive stimming) doesn't mean I'm "disinterested" or "not paying attention." It's my way of processing.
• I don't have to be extroverted; I'm still awesome as a quirky, quiet backstage researcher, analyzer, and builder.
• I'm allowed to ask questions perceived as "irrelevant" if it helps me better understand and optimize things.
• Above all, I'm allowed to be myself.
After understanding these concepts and utilizing my unique skillsets, I've streamlined my art into a more linear operation that highlights my strengths. As a result, it's more stress-free with higher productivity! Oh, and I no longer get lowballed by clients and am proud to say that I am finally out of the red financially with my venture!
Appreciate you sharing that. What else should we know about what you do?
My work started as a graphic design company for small business branding. Recently, it's shifted to self-expression. Now I consider it more a personal creative adventure than a "business."
My work and specialty include drawing and turning my art into quality handmade crafts like prints and stickers. I travel around Florida gaming events as an art exhibitor to sell my crafts. During my off-months from conventions, I take commissions. I offer illustrations such as custom caricature profile pics in my unique style. I also accept sticker production commissions for customers who send in images.
I'm most known for drawing things like food and nostalgic electronics in "Island Style." It's a digital style that features a colorful watercolor on canvas look inspired by my favorite game. Soon, I hope to be known for a new series of all original prints based on my two cats with a nature-themed gaming-influenced twist. I'm currently working on them and will sell them together as an art book one day!
I'm most proud of sticking to my vision through harsh criticism. While others thought I "threw my life away" by dropping out of college, I stuck to my game plan. While others said I was "unrealistic and needed a backup plan," I continued to prove them wrong.
What sets me apart from others is my Outreach Program. With funds from art sales, I buy art supplies and starter digital art drawing tablets to give to young artists in need at each event I attend. My talent, once fueled by anger, now operates on empathy. I can feel fulfilled if I can help at least one kid going through what I went through by providing supplies.
Where we are in life is often partly because of others. Who/what else deserves credit for how your story turned out?
Surprisingly, the primary support system for my art venture came from my day job, UPS. First, many employees were eager to support by commissioning art. Later, my old boss, Wyatt Haynes, got involved with my work. He and his church gathered funds for me to help begin my business. From there, co-workers, like Mr. Pitts, donated equipment for me to expand my craft! Their general consensus was that I didn't belong in a warehouse and should be out doing bigger things. I can tell they truly meant that by their actions to help make it happen.
Next would be my sister Marissa and my husband, Adam. When my sister left to go into the Army, she requested that I don't copy her and find my own way of being a hero. Her request is part of what inspired my outreach program. Likewise, Adam supports and backs everything I do because he 100% believes in my vision as an artist. He also likes helping with the art booths at events, which is always fun.
I'd also like to thank people who have supported me by making recommendations for relevant art shows and buying or subscribing to my art. Lastly, I'd like to thank everyone who has donated funds and snacks for my art booth travels and supplies for my outreach program! I'm very grateful for all the kind support!
Pricing:
"Island Style" Portrait Profile Pictures – Starting at $50
"Island Style" Full Body Character Art – Starting at $100
"Original Style" Full piece – Starting at $500
Handmade Sticker Production – Starting at $80/batch
Patreon Sketchbook/Sticker Club Member – $5-$10/month
Contact Info: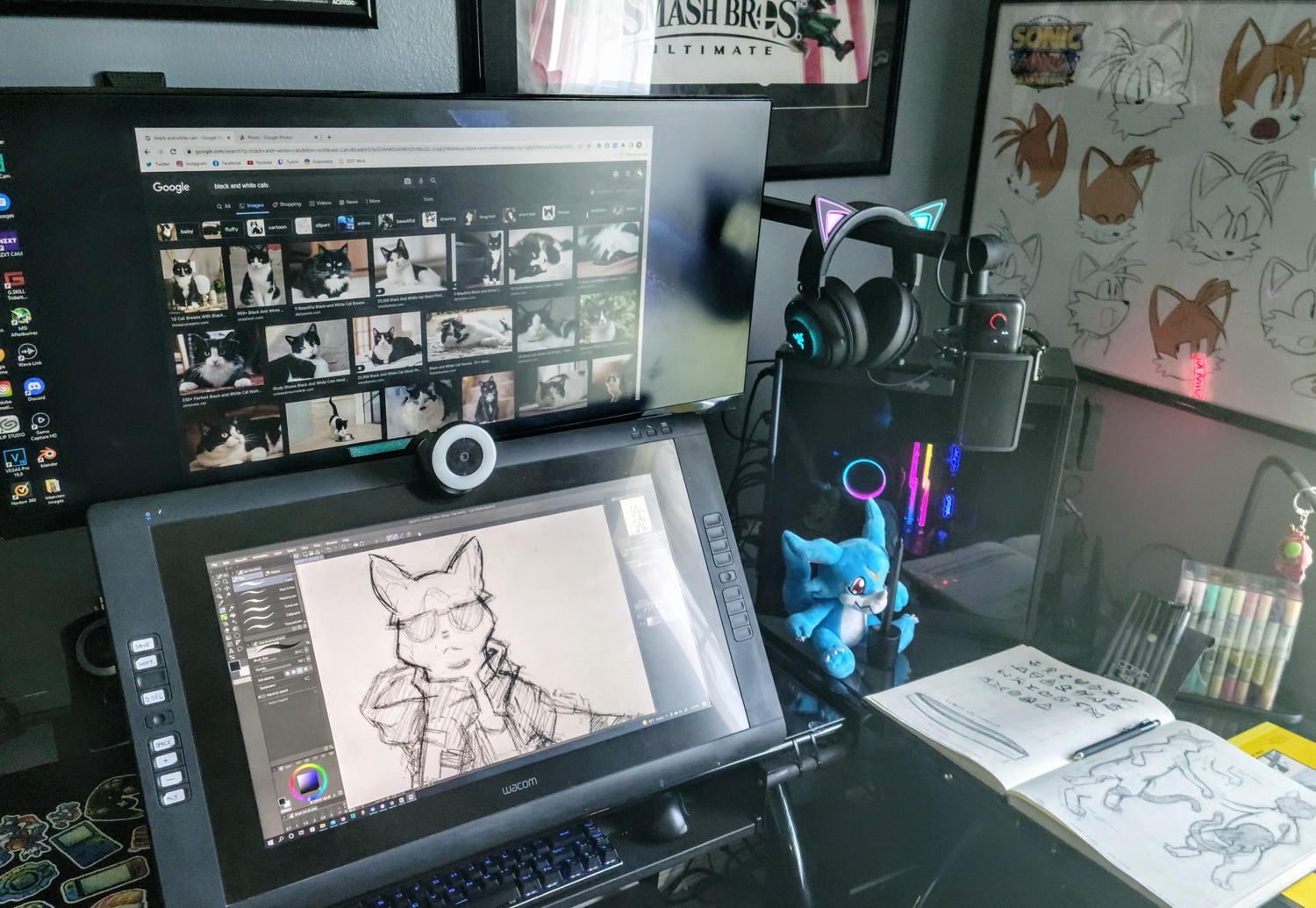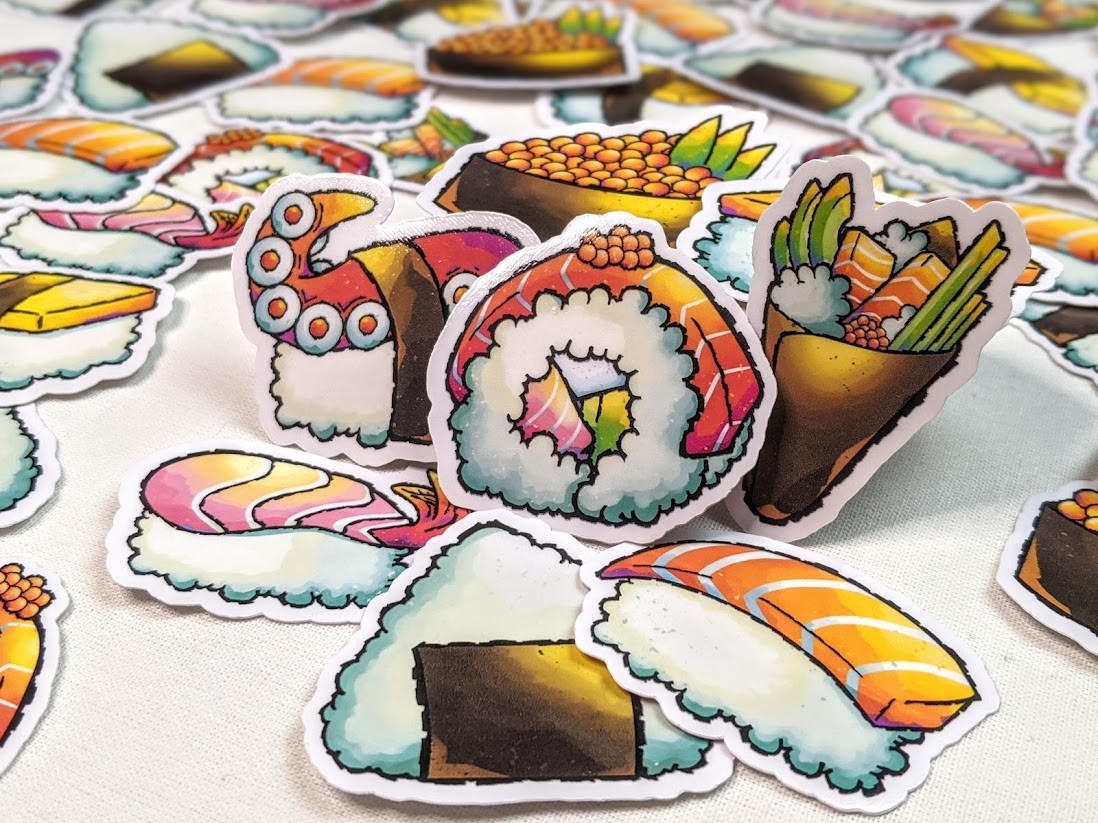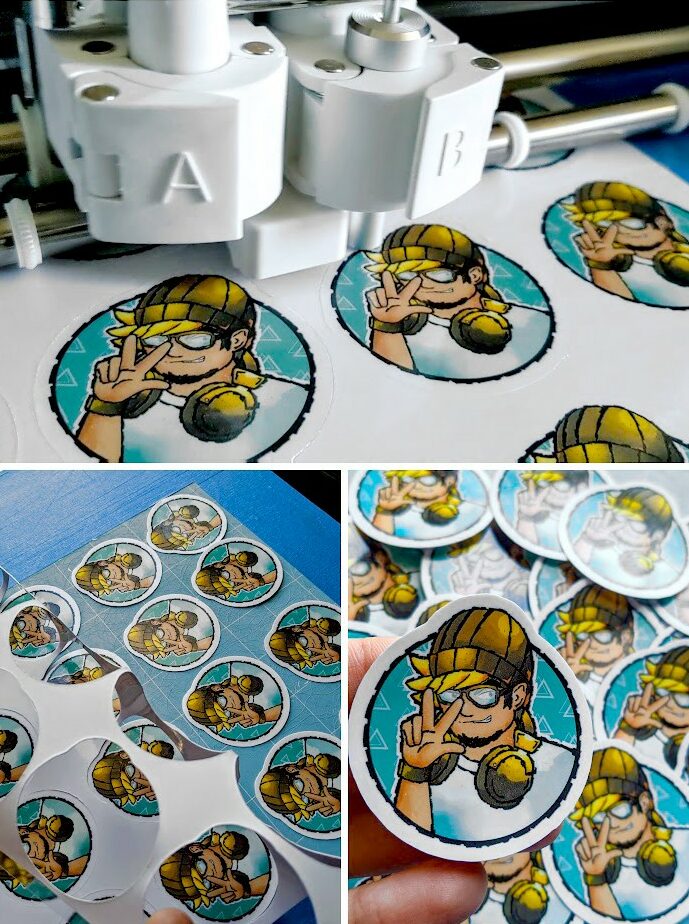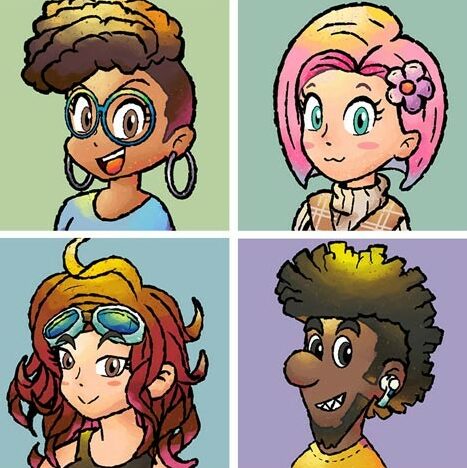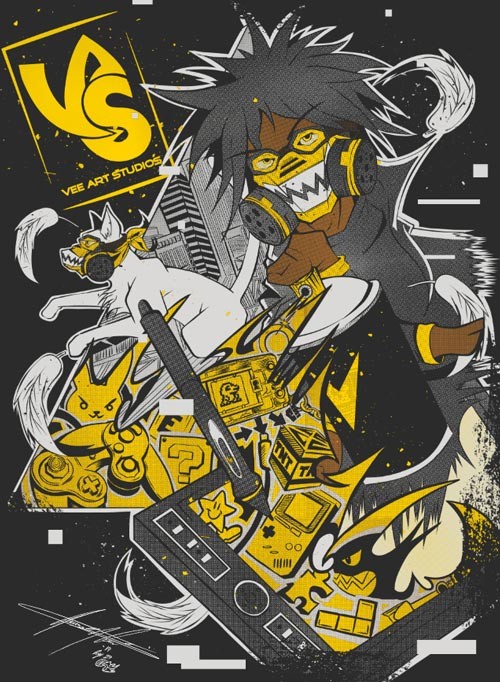 Suggest a Story:
 VoyageJacksonville is built on recommendations from the community; it's how we uncover hidden gems, so if you or someone you know deserves recognition please let us know 
here.