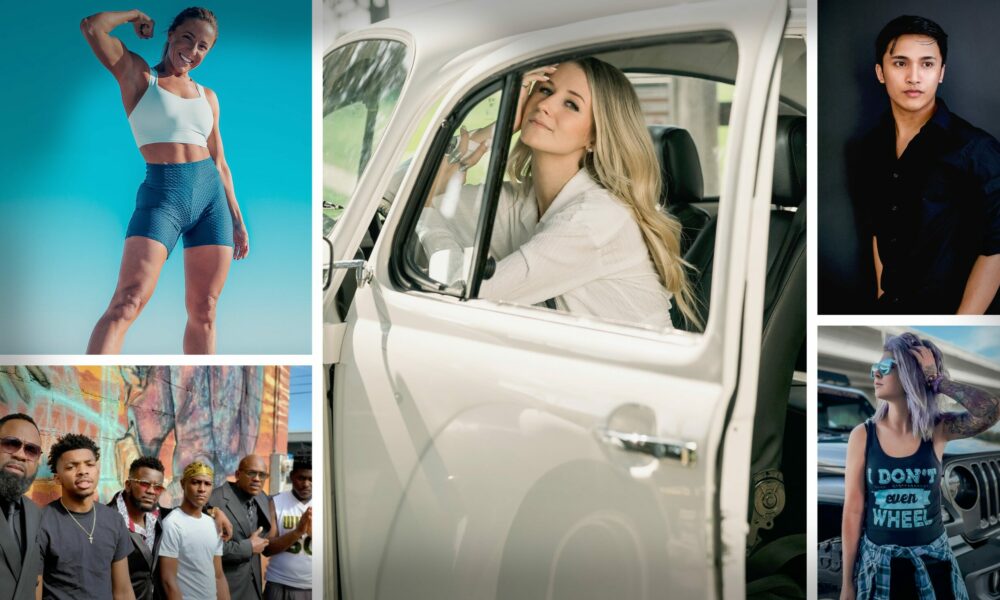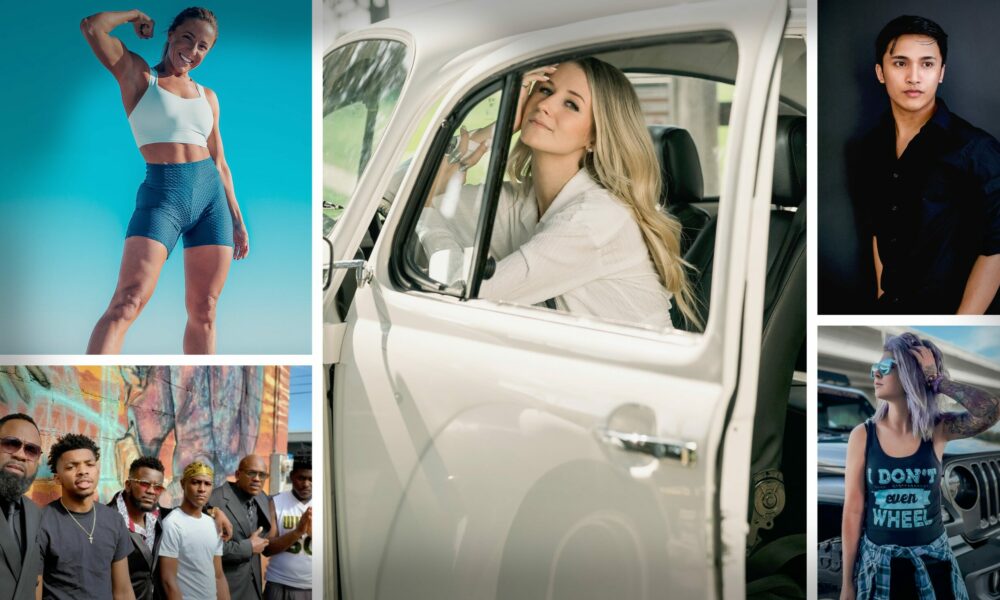 Every day we have a choice. We can support an up and coming podcaster, try a new family-run restaurant, join a boutique gym started by a local fitness champ or we could keep giving away our money to the handful of giants who already control so much of our commerce. Our daily decisions impact the kind world we live in; if we want a world where small businesses are growing and artists and creatives are thriving then we should support them with our time, money and attention. We're proud to highlight inspiring creatives and entrepreneurs each week in Hidden Gems series.  Check out some of our latest local gem features below.
Aly Gray

My business came to life in the thick of quarantine when gyms closed and workouts from home were in huge demand. I had been a group fitness instructor at Equinox in Boston, MA has been a bodybuilding competitor and personal trainer on the side too, but covid changed that. I knew I had to pivot to pay the bills and turn my fitness passion into a career so I moved to Destin, FL, and built an incredible website behind the scenes of Instagram live classes. Before long, Aly Gray Fitness was born! I built an online platform initially to make it easy for my clientele in New England to take the same style classes from Equinox studios from the comfort of their own home. I never expected it to expand worldwide! Now subscribers in the US and internationally sign into Aly Gray Fitness for fun and fitness. Read more>>
Esteban Azofeifa

I worked in a kitchen at a young age and fell in love with cooking. In 2012, I moved to Jacksonville and decided to pursue my passion as a chef. Fast forward to 2020 a year of many challenges, I got furloughed from my job the moment and figured with all the time I had I'd start a business. In April 2020, El Cubano Jax emerged selling Cuban sandwiches off a hotdog cart at different bars/breweries. The name started to get out there people were now hooked on what's been said is "The best Cuban sandwich in Jacksonville FL!" With many setbacks and challenges, I kept pushing and now have opened Brick and Mortar inside of Lemonstreet Brewing Company in the Railroad District on the riverside (2100 Dennis, St.) Read more>>
Heathensun Band

It was on the eve of Johnny's father's passing when Mark reached out asking if we should write music together. Over the next few months, Johnny and Mark wrote enough songs for three albums. With Mark writing all of the music it gave Johnny an opportunity to write his pain, grief, and anxiety to amazing music. After our first show, when it was just us two, we realized no matter how much emotion or talent we have, we could not do it alone. We started our search first for a drummer. We searched high and low until a man named Hunter stepped forward. Literally, after one show with hunter, we got a message from a guitarist who loved our style and had a style that fits like a puzzle piece. Now we are four individuals who came together by mere chance and are now ready to conquer the world. Read more>>
Courtney Henderson

Wow… so to actually be able to sit down and reflect on my entrepreneurial journey over the last four years shows how rewarding never giving up is. So I graduated from college in 2013 with a degree majoring in Sociology and Psychology and I just knew I wanted to be a social worker. But soon after, that first-year burnout hit me hard, especially with me having a 1-year-old daughter. So I decided I wanted to make a career change and in 2015 I went into the financial industry working for one of the Top Banks in the United States working in the credit card department. I knew absolutely nothing about credit cards or even credit for that matter because it was not something that was taught in high school or college, and none of my family was able to really guide me on how to build my credit because they were never taught about it either. We all just knew to work and save our money and hopefully, the rest would fall into place. Read more>>
Marlene Zullig

I grew up in a talented artistic and musical family and cannot remember a time when I wasn't creating art in some form or another. From my youngest years, I watched my maternal grandmother create beautiful art and hundreds of handmade original quilts from scraps of fabric in all shapes and sizes. If you could imagine it, my grandmother could create it. She was the most important inspirational person who colored the path that I would eventually take later in my life. After high school, I attended Bryant College in Rhode Island and graduated summa cum laude with a BS. in Ed. Shortly after graduating, I met the man of my dreams and married him that year. Read more>>
Michael Carter

I am from Hattiesburg, MS. born and raised and moved to Florida in 1991. I joined the United States Army in 1995 where I did 5 Combat tours and served 22 years as a US Army Cavalry Scout. During my time in the service, I performed for the United States Soldier show as an opening act for both sets as a singer. Later I was in charge of the show which was a 3.4-million-dollar production. We traveled to over 60 cities and 46 states in the US. We also traveled to 7 countries overseas. I retired in 2017 and moved to Florida to start my life as a civilian, this is where I got into acting starring in my first film called Some fun tonight where I played a cop who was killed by a psychotic man. After that, I landed a role in a stage play called Wedlocked written and directed by Toni Diamond Bingham and Kristal Stallings of Rare Diamonds Performing Arts Inc based out of Jacksonville, FL. Read more>>
Having Conversations Podcast

For starters, we are all close friends… we've been close friends for years… and have always had open unfiltered conversations. Conversations about everything… love, sex, and heartaches… you name it! The great thing about our conversations is that we all have completely different personalities, which bring forth different opinions and points of view. With that being said, we still respect and listen to each other regardless if we each agree to disagree on a subject or not. The idea of a podcast came during quarantine because due to the world being "shut down" there was definitely plenty to talk about. On Superbowl Sunday 2021, we were having an in-depth conversation as we all reflected on our stagnant love lives. After venting, shedding tears, 'cussing & fussing'… it was confirmed that we needed to share! Because we knew everything we've been through can help someone else. Read more>>
Krista Kunkel

Fifteen years ago, I bought a Jeep Wrangler. Not many girls were involved in the community when I got a Jeep. I started asking everyone around me to teach me how to wrench on my own Jeep. I started a Facebook page just to inspire other ladies to get more involved in the hobby. After building Michigan Jeep Girl as a brand I really wanted to focus on starting my own business. I started my business which is called FakeWrenching. I often get asked how I came up with the name and it's actually kinda funny, I took all the hate and comments on my media saying I was fake-wrenching for media and named my company after it. FakeWrenching is an apparel company with apparel to make you smile. I hand make all my apparel items and design my own designs. It warms my heart when I attend Jeep events and people come up wearing my apparel. Read more>>
Dylen D'Aurora

My parents were military and I moved around every three years of my childhood. I moved to St. Augustine before my senior year of high school (2018-2019). I started to trade stocks during that year in my free time but still had my plan to go into nursing school. After graduation, I moved into an apartment in Jacksonville and started my journey into nursing school at UNF. I completed one year towards my degree and realized that the path I was headed down was not the path I wanted to finish so I switched from nursing to economics. Big Switch. I was working as a server at a couple of restaurants here and there during my sophomore year, still proceeded with the stock market but wanted something that yielded a little more return than my minimum wage job. Read more>>
Patrick Henigan

I am a nationally certified (ACSM, FMS L2) and published personal trainer. I am one of the owners and the lead trainer at Jacksonville Fitness Academy. I view fitness differently than most other trainers because my path to fitness was much different. From my late teens to mid-20s, I was an opiate addict. I was scrawny, unhealthy, and unhappy. Through vigorous physical and spiritual discipline, I transformed my body, my mind, and my life. I learned to push myself so I could live my life to its full potential. I have nearly a decade of experience training people like SNL Cast members, MLS players, and Fortune 500 CEOs but I prefer to bring my brand of pain-free performance training to people just like you. There is a proper way to train that will repair your body, while also pushing it to a higher level. Read more>>
Andrew Jensen

I started my YouTube channel in 2017, ten years into my professional golf career. Early success & growth paired with a broken arm in 2019 forced me into a full-time pursuit of YouTube and content creation instead of a professional golf career. Five years later, I've branched into all aspects of content creation, "influencer" marketing, and video editing/production for myself & brands alike. Read more>>
Mark Sheme

Music, art, and theater have been coexisting harmoniously in my life for many years; a passion that has driven me to become the best I can humanly be. I have constantly been exposed to art from an early age and continuously have been ever since. My mother is a dance teacher, partaking in numerous shows during my middle school years, being enrolled in a performing arts high school, and now soon to graduate college with a BFA for musical theater and following by entering the career full-time. I have worked for numerous professional companies in Georgia, Florida, and Montana before graduating college. But I am excited to start a new chapter of theatrical work. I have persistently tried to push myself to the next level of performance and education. Theater and music have not only brought me happiness and escape but also to those around me. Read more>>
Donne Ordile

I've been a physical therapist for 20 years and I love helping people. About three years ago, I started to take an interest in scoliosis and took an intensive Schroth Method course and I realized there is a way to help individuals with scoliosis. Young adolescents are often told there is nothing they can do for their spine, and they must just wait and see if their scoliosis will progress. Older adults looking for pain relief are told surgery is the only option. For both these individuals, the Schroth Method of Physical Therapy has been proven to help. There is a great deal of research on this method and we change people's lives at scoliosisPTJax. We host a scoliosis brace clinic at our studio monthly offering the Rigo type brace. We host monthly adult virtual Q & A sessions/support groups. We host quarterly social events for adolescents with scoliosis. Read more>>
Bonde Johnson

I believe that education, experience, and skepticism have a synergistic relationship that carves the path to a bright future. I believe people should pursue what energizes them in life. I believe people should be passion drive, not profit-driven. I have gone through a number of career changes in my short 25 years of life. I journeyed into college in pursuit of a degree in dietetics knowing that I had a deep passion for nutrition. This passion came from a bout of anorexia that I faced during my sophomore year of high school. I learned a lot about myself during that time. I was a competitive gymnast with a solid build for my age in the 8th grade but after falling prey to the lackluster nutritional guidance that lingers on the internet. I ended up a 16-year-old kid who was 5′ 10″ and 118 pounds, working out twice a day, and eating – 1,200 calories/day… I was withering away slowly. I decided to take a stand, if improper nutrition got me to the diseased state that I was in, I knew proper nutrition could get me back to health. Read more>>
Ashley Albertson

My name is Ashley Albertson and I am the Corporate Director of Communications for Live the Life. I began working with Live the Life as a volunteer before I can really remember, this non-profit is my dad's legacy and he started it in the extra room of our townhouse when I was 7. Since then, I have worked helping with everything from taking out the trash, to graphic design and now moving our mission, to strengthen marriages and families, forward even more to communities in Florida and beyond. I am passionate about this work because I went through an incredibly toxic relationship that ended with a divorce. I want to work to make sure no one else has to go through what I went through. I ignored red flags, I believed I could change him, I didn't think I was worthy enough of the love that I desired. I want to give hope to young people to have the right foundation, the knowledge, and the empowerment to thrive in relationships, not settle. Read more>>
Tarah Wellington

College was the time when I really started to explore my interest in photography before I mostly used my point-and-shoot camera to capture moments and to photograph reference material for my drawing projects. My preferred mediums for portrait drawing projects are charcoal, graphite, and pastels. While completing my Bachelor of Arts degree in Art with a concentration in Art History I studied the history of photography and was inspired by early pioneer photographers such as Ansel Adams, Dorothea Lange, and Gordon Parks. Through their work, I saw just how expressive and meaningful photography can be and the value it holds. I then proceeded to take a film photography class and learned how to process my own black and white film. Read more>>
Roman Tilus

Well to be honest when I first got into music, I did it for all the wrong reasons such as. Money, women, fast lifestyle, etc. It was not until I moved from my hometown of West Palm Beach, FL that I truly started to take my walk seriously with Christ. That I knew that I wanted to use this gift for God, being a Christian Artist has its moments if I'm being honest there are moments of doubt I have too, but I know when I'm in those moments to turn to Christ. The thing is I use to be in a Christian rap group for three years, and then after we broke up I decided to rebirth myself into a solo artist never look back since then. So I'm enjoying where God has me now and excited to see where we going next. Read more>>
Leonardo Padua Jr.

So, I'm 20 years old during the midst of the Corona Virus Pandemic and I'm taking that big leap of faith toward my Real Estate career by beginning my 63-hour pre-licensing. My mind was completely focused on one thing getting the pre-licensing done so I could take the state exam pass it and begin my Real Estate journey. My first year in the business was difficult I was new in the middle of covid and at 20 years old not having any friends who could afford to buy a home played a lot of challenges since my sphere of influence was limited to rentals but that was okay with me. My belief from the very start was not doing Real Estate for the money, I have a real passion for it so no matter if you're renting an apartment for 2,000 or buying a home for 20,000,000 I would treat both clients the same and deliver them the absolute best service. Read more>>
Collin Armbruster

I have had many rescue dogs of my own. As I started running triathlons, I realized people brought their dogs to the races to watch and hang out. I started bringing treats for them and talking to people about their dogs and rescuing them. I decided to combine my two favorite things and promote rescue animals through running triathlons. I started visiting the humane societies in the area. I decided to focus on the animals that get looked over due to age or how they look or act in their kennel. Many of them are scared and bark or look aggressive. When they get out in the yard their true colors come out. I try to take videos and show people what type of dog they really are when they are out of the stressful environment of a kennel. Read more>>
Adrienne "Foxx" Tolbert

Well, it all started in a little town… Just kidding. I've been creating since 2015. I originally wanted to design clothes and I was like "Let me figure out how to draw the human form…" but drawing is still a weak area for me. Haha, so I quit and found out that I like paints way more! But it's been a journey! I was painting, then I started wrapping crystals in copper. Now I facilitate intuitive paint sessions and I'm getting into body painting which has been really dope. I still paint, but I don't show half of the things I've started. I even tried clay sculpting for a few weeks. I honestly just love creating and want to figure out all the ways I can incorporate that into my life and not be a "starving artist". Read more>>
Joseph George

I started my career as a business negotiator. I handle many cases negotiating for big companies on issues like mergers & acquisitions, lease terms agreements, partnerships dissolution, and working with law firms in the negotiation of different types of cases. My past experiences have thought me a lot and have shaped me to be a great mediator and arbitrator. Growing up in the US Virgin Islands, I was introduced to various areas of the construction business at an early age. As a young boy and into my teens, I spent a lot of time building homes with my father who was also a construction worker. I also worked as chief engineer for hotels which was a great segway for me to serve in multiple roles in the multi-family housing industry where I got training as a REAC inspector for HUD. Read more>>
Emmanuel Villanueva

The first time I made content was back in late 2014 behind personal family travel videos. I knew instantly the process of shooting video and post-production that really made me feel fulfilled and inspired as never felt before. While almost finishing up high school, I did not had a clear vision of what I wanted to do, all I did was that I have to listen to what my authoritarian parents think what's right and what they expect from me. As much as I did not want to disappoint them, I just went with the flow to see where this would take me. I had to choose a field of study fast due to the fact I was going to be obligated to go to college regardless two months later after my high school graduation that same year (2017). Read more>>
Marika Dzhindzhikashvili

I was born in the Republic of Georgia, the City of Tbilisi to an upper-middle-class family. My dad was an attorney who specialized in international business, and he traveled a lot and often would bring my sisters and me presents with stories from different parts of the world. We lived a peaceful and comfortable life. By the time I was seven years old everything changed. The Country was ripped apart by bloody civil war and we nearly lost everything. Eventually, we had to flee the country and seek refuge in the United States. The United States offered a soft landing for our family and soon enough we made Brooklyn, NY our home. My parents rented a modest apartment, and I shared a bedroom with my two younger sisters. I remember my first day at "Nefesh Academy" a private Jewish School for Girls, I was 11 years old, and I could barely speak English, everything was foreign to me, but it was the first time in years that I felt safe. Read more>>
Nicholas Correa

Born in Lowell, MA, but raised in Brazil, currently living in Jacksonville, FL. For someone who spent their whole life under his parent's wings, moving to another country by himself can be scary. But I guess hard work does pay off. I'm thankful to God for always being by my side, and if one day, I'm ever successful, I dedicated it all to God and my family. Read more>>
Betsy Angus-Smith

I started my career at age 18. At 21, I was a single mother. I began doing hair in Riverside Jax but when I became a parent I decided to move back to where I grew up in Clay County. It was like starting over. No clients and a vastly different demographic. I was at the same location for 11 years, scared to move because I was comfortable with the stable income for my young family. I was tired of having a boss and felt like I had so much creativity to share without the confines of another owner's "brand" if you will. I decided at the beginning of 2015 to take the plunge. I figured what is my point of failure? I will still have my talents in doing hair, I could find a job anywhere. My first location in the Town of Orange Park was roughly 600 square feet. Through my loyal clients and endless hours, Atomic Beauty and Barber Lounge was a hit! Read more>>
Eden Howard

When I was in the 9th grade my sister tried putting lashes on me for the very first time and I hated them. However, I admired Kim Fields' makeup on the television show, 'Living Single,' and I wanted to enhance my look. After a while, I learned how to do my makeup by putting on lashes and doing my hair for the total look. Then I fell in love with lashes because they improve the individual's appearance by drawing attention to the eye area. I believed that if I could start a business by doing what I love, I would never go to work but I would be the best CEO. Beauty/Cosmetics. I strive to provide women with quality lashes and lip gloss. All my products are vegan and animal cruelty-free. Nevertheless, I was afraid of starting a business because I did not want to fail. Read more>>
Francisco Bustos

I had a carryout restaurant, but things are not easy for small businesses, and after one year, I finally sold it losing a lot of money, before going into bankruptcy. Read more>>
Barbara Schilling

My family and I moved to North Florida in 2013 for my husband's career and we love the area. I worked in Healthcare for almost 20 years and I was ready for a new adventure. I had always dreamed of owning my own boutique. I started BrightSky Boutique online at the beginning of the year. My friend encouraged me to open a physical location at Total Salon Studios in Durbin. In April, my dream became a reality and we opened the shop. Our goal is to provide affordable fashion for women. Read more>>
Suzanne Hasz

In 2015, I came across a camper on craigslist and decided to purchase it, cut a window in the side of it, and transform it into a fun bar to sit in my backyard. However, after I bought it, it sat on my property for a year never getting renovated. While it sat there, guests who came to my house would remark that when it was complete, they would love to rent it for their party. That first trailer began Hudson Trailer Company and our event rental fleet. We then added two camper bars, two-horse trailer bars, two photo booths, and several smaller tap trucks. Over the next couple of years, images would get posted on Pinterest of our event rental fleet. People began contacting us to create a truck or trailer or photo booth for them so they could launch their own event rental business. Read more>>
Ocean Drive Recording Studios

Ocean Drive Recording Studios is a home studio, located in East Jacksonville, Florida. Formed recently by two brothers (Csaba and Robert Bankus) the home studio has started as a rehearsal room with the sole purpose of practicing and recording their own musical instruments with basic recording background. After we received some very good feedback from some recording professionals, we started to put more effort into learning music production and invested in more serious and professional equipment. Read more>>
Kyla Nicole

Everyone talks about the benefits of having an animal, a pet, and how it affects you and your mental wellbeing. When I was younger I wanted a PSD or ESA, but we were a dog-free house. I was adopted and grew up away from my family, I lost my mom and never got to have a proper relationship with my siblings. Growing up hundreds of miles away makes relationships with family difficult. Due to bullying, I always struggled with making friends, my anxiety and insecurities got the best of me. I wanted a furry friend, someone who won't cause drama and love you unconditionally. I always knew I wanted a dog, it would be something to focus on other than myself. Growing up my anxiety only got worse, with more pressure from the outside world and myself. Summer of 2020 I was raped. Read more>>
Naomi Soncag

I first began an entrepreneurial career when I opened a contemporary art gallery in downtown Jacksonville in 2000. After a couple of years, the building we were leasing got purchased by the Department of Transportation to build a parking garage for the new downtown branch library. I helped run other businesses for a number of years, notably a franchised Teavana in Columbia, MD where I was trusted with day-to-day operations as a store manager. After subsequently marrying, having a baby, and going through a divorce, I found myself in retention banking for four years. Read more>>
Frankie Guerrido

I was born and raised in Ohio. Your everyday black kid living in poverty, but I watched my Mom and how she always wanted more for herself and her family. Worked three jobs so we could survive. Out of all the kids she always gave me certain responsibilities. I guess she saw something in me early on. For some reason watching her rubbed off on me because I wanted more out of life. I would watch the dope boy kids with the newest shoes and clothes and I was wearing hand-me-downs. So I got my first job at the age of 13 working as a concession stand worker carrying around a backpack bigger than me full of drinks. From there, I went on working all sorts of jobs, from McDonald's to hotels. You name it, I probably did it. Being in Ohio didn't give me the fulfillment and joy I really wanted. There were not many jobs or many "typical jobs". Read more>>
Leandrew Mills, III

I credit my parents for providing the foundation early on that helped me establish the skills and experience necessary to be who I am today. My father is a military veteran and while most people have stories of a military parent being stern and distant, my father taught me about the balance that can come with masculinity when you pave your own path versus let it be paved for you. My father started his own business which grew to become the largest, Black-owned pest control company in NE Florida. The beauty in watching him and my mother build this business was knowing the sacrifice of leaving a successful career (working for someone else) while having three children and not always having the support of their peers. Read more>>
Stephen Campbell

Our IG account started as a way to memorialize our journey through adoption. From the downs when we lost our first child to the ups of having our daughter Bella. This also serves as a baby book for her to go back and see how she grew up and how much she is loved by many. Our account quickly gained followers and continues to grow. We have had partnerships with over 36 companies including target, dove skincare for men, AquaSana, and many more. Read more>>
Aletha Cross

I started making jewelry as a way to cope with the loss of a child. It is great therapy and engages my creative side. I have been making handcrafted jewelry for over 20 years. In 2018, I decided to turn my hobby into a business and created Essence By Design. I have recently fallen in love with resin art and making custom t-shirts. Read more>>
Susan Daly Voss

I was always the class artist, from elementary school onward. In fourth grade, I was rejected from a district-wide art contest because the judges didn't believe someone my age could have done the work. I took that as a challenge to get even better and took after-school art classes, and summer workshops at the Jacksonville Children's Museum, which was in a large historic home in Riverside. Fast forward through many classes and a lot of art-making, and I eventually graduated from the University Of North Florida, summa cum laude, with a Bachelor of Fine Arts degree in printmaking That was just the beginning of my education. In 2002, I moved to NY and continued my studies there, at the Art Student's League, and other workshops and artists in the area. Read more>>
Airelle Smith

When I first became pregnant with my sun Nagem, I wanted to eat better for the health of us both. I was vegetarian at the time and I transitioned over to being Vegan. Back in 2019, there weren't a lot of vegan-friendly choices or spots. I had to learn how to prepare the foods that I was craving. As I prepared myself these meals, the idea of serving the community came to my mind, and then BOOM! I said to myself "I can start selling food!" From that point, I started researching and diving more into the field of veganism & business. I ended up quitting my job at Florida Blue & followed my passion! Read more>>
Arlene Cameron-Lloyd

I arrived in Jacksonville, FL. by way of Brooklyn, NY after emigrating from Georgetown, Guyana. After earning a degree in Sociology (1995) and a Master's Degree in Arts in Teaching in Elementary Education (1999) from Jacksonville University, I became a passionate educator who continually seeks to aid students in overcoming barriers that affect their learning. I completed my Gifted Certification to help me understand my son Tristan better. He was a very gifted artist and writer but despised academic areas because he felt the curriculum did not address his cultural identity or his other gifts. Tristan died in 2014 at the age of 19 after being involved in a car accident. Read more>>
Brett Walden

I was born and raised in Georgia and after I graduated from college, I decided to relocate to Jacksonville, FL. While in college, I found a passion for working with children with varying disabilities so when I started working here, the only option, in my opinion, was to work in the education field. I have been able to work with children diagnosed with autism for almost twelve years. I started off working as a teacher and then as an administrator for almost ten years. My goal was to provide a learning environment that allowed every child a way to succeed. Autism became my fascination and motivation. I found that they were having a hard time creating their voice within the community. Read more>>
Hogoe Kpessou

I launched on October 26 of 2020. I'm from Togo, I went to school in Arlington heights elementary, then attended Christ the king catholic school and Bishop Kenny. I was dealing with bullying throughout my school career that I didn't even realize the doors I suppressed for myself. Meaning, I never thought this would be my life after high school, When I launched, I only had a few samples. And essentially this is how I also kind of like run my store because to be in the department of luxury and to be able to find the money it's just not really there, or at least inaccessible to me. When I was trying to prepare to be able to like launch, all lenders and banks said "You haven't been in business enough". Which was confusing and discouraging to me because I was thinking "Well… this is a startup. How long am I supposed to be in a business where I am just getting started?" On top of that, this was early on into the COVID pandemic. So, unfortunately for me, a lot of people were also just like reluctant to give a 22-year-old any more for a fashion brand. Read more>>
Alex Carantza

I've collected from boyhood. My grandmother, who was a collector, took me along to antique stores and auctions from a very young. I started collecting old letters and photos when going around with her. Those are some of my favorite memories. I started collecting again in my 20s, living in New York City, usually art and object. In 2020, I left New York City and returned to Jacksonville. With more space and access to estate sales and different auction houses, I became inspired to grow my collection. I began seeing items that didn't fit into my collection, but I knew others would love and a small business was born. Read more>>
Dav Reeves

I first got interested in the body art industry when I was very young, I started noticing my stepfather and my mother's friends having tattoos and piercings. I was probably only 6 or 7 years old but that's when I started drawing and getting more and more into art. As I grew older, my family would always buy me art supplies for birthdays and holidays. Finally, in my early 20s, I took an apprenticeship as a body piercer for a couple of years in a small town on the border of Ohio and Indiana. After that, I went back to my hometown of Springfield, Ohio, and was offered a job in a shop as a body piercer which led to an apprenticeship in tattooing which I never finished because the shop closed. Read more>>
John "DJ Jay MoeTown" Sherrod
How did I get started with my businesses? It took discipline and strength. In order for me to start my rental cars business, and DJ entertainment business I had to cut back on things that I loved to spend money on and work on my credit. Having a nice paying job helped me to save but the real accomplishment was not having to use my own money and building my credit to get what I wanted. Once I had built a good enough credit I was able to purchase different vehicles to rent out. Of course, I couldn't do this alone, having a good foundation and knowledge from my girlfriend helped to push even faster. My strength honestly came from my job! I'm a strong-minded person who likes to be in control, my corporate jobs weren't for me. Since I didn't like to be controlled I would come to do my job, and I did my job very well but I just couldn't get into politics, sucking up, or hang with peers. Read more>>
LaToshia Hall

So nearly 20 years ago, I was working in corporate America and for lack of words, hated it. At the time, I had a young daughter who had Eczema and on occasion, it would flare up really bad. One day, I got a call that my daughter was sick and I needed to pick her up, my supervisor at the time told me it was not a good time to leave and if I did there was no need to come back. It was at that moment, that I realized how dispensable we are as employees, there was no regard for my sick child at all. Fast forward to today and that was one of the best decisions I could have made. Read more>>
Jason Sowell

I'm a Florida native and have lived in Florida my entire life… a bit of a unicorn, they say. I graduated from Trinity Baptist College in 2001, and went on the pastor a couple of churches then in 2008 I started a non-profit organization called Current Initiatives. I started current with the idea of wanting to meet tangible, overlooked needs that families in our Florida cities were struggling with. I wanted to bring missions more local and more tangibly to our neighborhoods. Read more>>
Chelsie Symone

I used to think I was a late bloomer, but it turns out God was aligning and preparing my unique path since I was young. I was always pretty shy and more on the quiet side, but felt most loud and expressive when writing a poem or putting an outfit together. I went to LaVilla and Douglas Anderson for creative writing, where I found my utmost love for poetry, particularly the spoken word. When leaving college, I practiced spoken wordless and freestyle poetry more. Read more>>